| Item ID | Starting Bid | Bids | Current Bid |
| --- | --- | --- | --- |
| 30686 | $1.00 | 2 | $200.00 |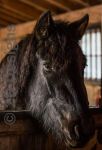 Winsome is our "baby" but not for long. Winsome Dream has the wonderful mind and beauty of her Mom but the athleticism and coloring of her fabulous Dad, Macosa's Dream. Winsome is a radical color changer and a big pony. About to turn 3, she has taken to everything we have taught her as if she's done it 100 times already. She is friendly, sweet, and also a tease. She will sweetly take your hat, your mittens, tools, anything you have. She loves to "help" us with chores as well, in her own pony way, like helping to pushing the muck bucket along with her head.
Your monthly donation will go to Winsome's feed and care and since the high bidder is recieving no goods or services, we can issue a US donation receipt. Hay costs $5 a bale. Farrier costs $35. Annual veterinary care $100.
Monthly Sponsorship payments can be arranged through paypal.
Thank you!