| Item ID | Starting Bid | Bids | Current Bid |
| --- | --- | --- | --- |
| 30683 | $1.00 | 1 | $10.00 |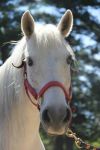 Misty Star of Gambo was born in Gambo, Newfoundland. A shy, more reserved pony, Misty ADORES children and forgets all about being shy when they come to visit. Misty is very good at quietly coming up and giving you a suprise nuzzle. She has the prettiest whinny, and her favorite reason to whinny is when she sees her love, Ammy. Misty is pregnant with Ammy's foal and is due to deliver in August. Villi Poni Farm is incredibly excited about this foal as we know it can't help but be beautiful, kind, sweet. Neither Ammy nor Misty have many offspring able to breed, to carry on their lines, to help save the pony. It would be such a shame for that to happen; this baby is certainly precious.
Your monthly donation will go to Misty's feed and care and since the high bidder is recieving no goods or services, we can issue a US donation receipt. Hay costs $5 a bale. Farrier costs $35. Annual veterinary care $100 but Misty will have additional veterinary costs with foaling. Whinnies and Misty's surprise nuzzles are free.
Monthly Sponsorship payments can be arranged through paypal.
Thank you!