| Item ID | Starting Bid | Bids | Current Bid |
| --- | --- | --- | --- |
| 30682 | $1.00 | 3 | $50.00 |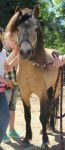 Sponsor Ammy's Honour, our beautiful sweet sanctuary stallion. Ammy came to the sanctuary after suffering a horrific injury at another farm, which left him permanently disabled. Honestly, we never thought he would never survive. But survive he did! He is a joy and an inspiration. He adapted and lives pain free and recently fathered a foal who should be putting 4 tiny hooves on the ground this August. Ammy is never grumpy, Ammy makes the best of his situation. His true love is Misty, who is the mother of this foal. His best friends are paddock mates Toby and Scronchions. He loves to be brushed. He loves kisses on his nose. He is probably the kindest equine we have ever known. We hope Ammy will be able to grace us with his special presence here a very long time.
Your monthly donation will go to his feed and care and since the high bidder is recieving no goods or services, we can issue a US donation receipt. Hay costs $5 a bale. Farrier costs $35. Annual veterinary care $100. Kisses on the nose are free. Monthly sponsorship payments can be arranged through paypal.
Thank you!